Dora Mae Jewelry- "Breathing new life and beauty into the world, one heirloom at a time!"
Meet LadyBoss,
Ansley Schrimsher:
The Beauty & Brains Behind Dora Mae Jewelry
Ansley Schrimsher fell into jewelry design when her grandmother, Dora Mae, gave her boxes of vintage jewelry she'd collected for 50 years. Inspired by the jewelry's history, patina, and charm, Ansley began combining vintage components with modern materials and her one-of-a-kind jewelry line was born. Her goal is to artistically rejuvenate the antique pieces by juxtaposing them with modern components. She hopes to both preserve and renew vintage design. Ansley is married to her high school sweetheart, Jake and they have two children Cade and Haven. Along with Dora Mae Jewelry, Ansley owns Avant Garden Design, Inc. She has been designing gardens for Orlando and Winter Park residents since 2002 and takes a project every now and then just for fun. --Excerpt from Dora Mae Jewelry website--
The beginnings of Dora Mae Jewelry started with Ansley's own grandmother, Dora Mae Pemberton, bringing her box after box of antique jewelry she and her mom had collected over 40+ years of thrifting. As her grandmother laid each piece out over her antique lace bedspread, Ansley recalls the moment as unforgettable naming herself as a "modern kid in a vintage candy store." It was then she knew there had to be a way to incorporate modern flair into each beautiful, but often outdated piece. At the time Ansley owned a garden design company and had no interest in making jewelry, but managed to design a few pieces for her mom and sisters and had them made at a local bead shop. Little did she know that would soon lead to her receiving several requests from friends and acquaintances asking her to update and customize their family heirlooms as well. The more jewelry orders she received, the more Ansley realized that she was no longer just a garden designer.
"Jewelry design slowly began outnumbering my garden design clients and Dora Mae Jewelry was born. I began sourcing and creating my own collections, hosting trunk shows and selling through boutiques," said Ansley.
From there she began sourcing and creating her own collections, hosting trunk shows and selling through boutiques. Initially, building a brand was the furthest thing from her mind. She simply found joy in honoring her "Mae Mae's" vast and varied creative legacy. Dora Mae was an avid antique collector, from scratch baker, accomplished seamstress, talented pianist, singer and perhaps most notably a clever and gifted poet. Each piece of jewelry is named using phrases from her poetry taken from "The Selected Poems of Dora Mae Pemberton, 1966-2000."
"EXTRA! EXTRA! READ ALL ABOUT IT!" -All of the extra it takes to run a small creative business by Dora Mae Jewelry's Ansley Shrimsher:
Oh it takes ALL KINDS OF EXTRA to run a small business. A small creative business for that matter. People wanna talk about branding strategies and profit margins and I'm over here like "look, I gotta source and design and create and produce and sell and pay the freaking rent already OK?! If I don't want to be that short sighted ALL the time, I gotta have EXTRA. So I put together a list of all the extra I need to function. I hope it's inspiring (or at least encouraging!) to all my creative lady bosses out there just tryna make it happen everyday!
Extra caffeine: We choose wired over tired Every. Day. Of. The. Week. That's why EXTRA:CAFFEINE had to make it into our photo series. Jittery isn't awesome. But sluggish is HELL NO cause it's completely impossible to be creative under those conditions. HYPER, however? Oh I can conquer the world hyper! I knowwww extra caffeine isn't the BEST choice for our bodies, but sometimes BEST just needs to go jump in a latte lake already. GOOD ENOUGH just has to do. An oversized cappuccino cheers to that!
Extra Hot Mess: DON'T SUPRESS THE HOT MESS! Dance with Disarray! Cuddle with Chaos! Make love to Messy. When you pretend the mess doesn't exist, it WILL sneak up and surprise you at the worst possible time. Why not make friends and embrace the beautiful mess of life?! Let the rainbow ice cream melt and drip down your hands while you wear a tight 1970's jeans jumper. It's honestly wayyyy fun. I guess what I'm really talking about here is humility. I am NOT endorsing authenticity as a marketing ploy. (Cue vomit sounds.) I'm talking about acknowledging and owning your weaknesses, your messy spots, your darker sides! Don't be afraid to shout it from the mountaintops "I DON'T HAVE IT ALL TOGETHER!" And then surround yourself with people who complete your gaps. Celebrate each other's strengths, embrace your weaknesses and don't be afraid to let them show! I may have 7 new ideas every minute but I also leave my keys in my refrigerator. It's a gift to others when we let our whole selves and ALL our true colors show! Goodbye posing and pretending and posturing. Hello rainbow nails!
Extra Wild and Free: A wild heart serves us well when this wild world requires us to be brave. A free soul keeps us unchained from all the lies we so easily believe. I have a happy-go-lucky personality, but I battle fear and anxiety a lot too! It's not about living without fear, it's living wild and free in the midst of it. In other words, FREE is my favorite four-letter word and WILD is my favorite color.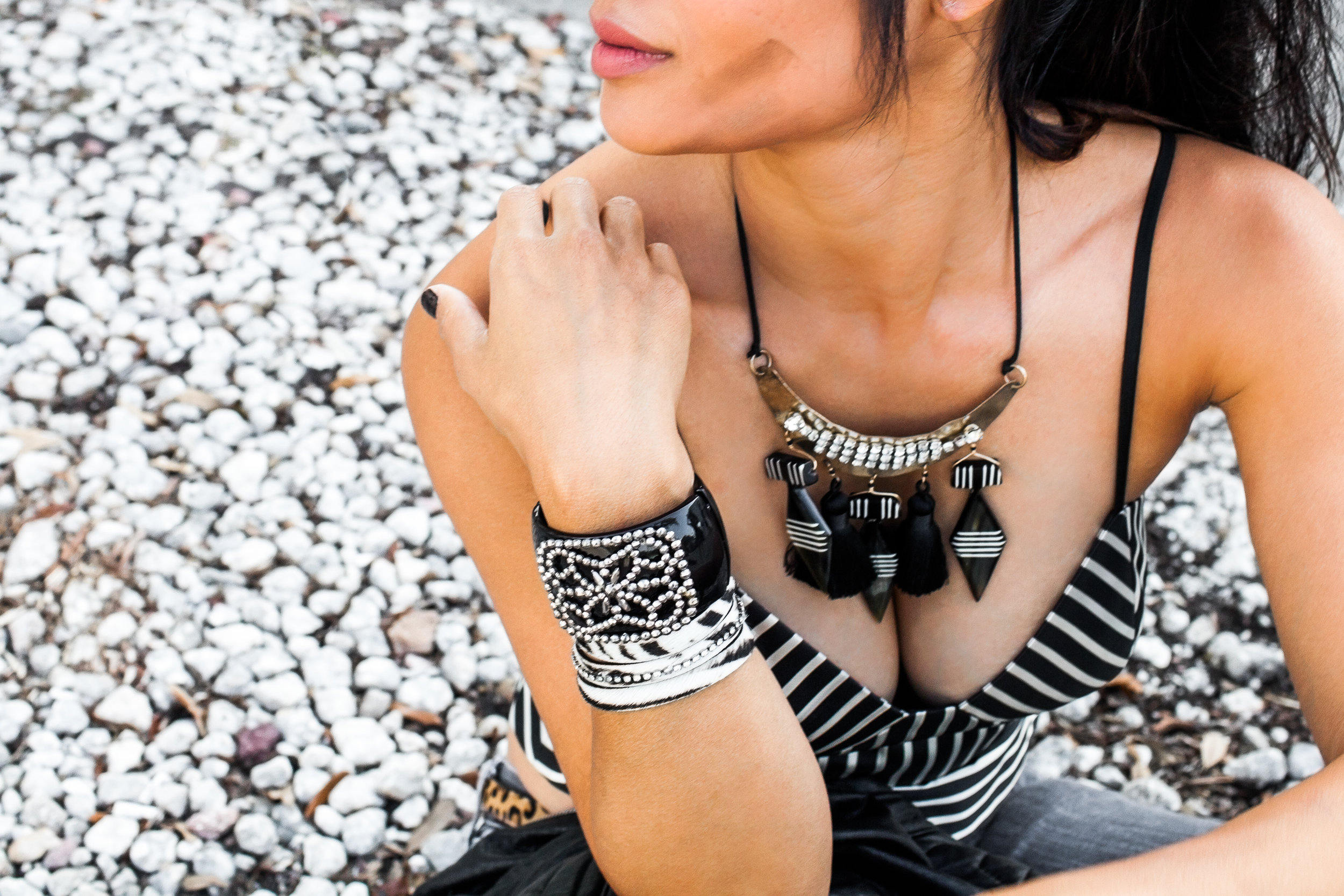 Extra Grit: You gotta risk. You gotta sacrifice. You gotta sweat it out. And while you are dripping with sweat you gotta risk some more. And the victory doesn't come at the "end" when you're "successful." It comes in the moments in between when you get to be fully alive, living by faith and overcoming fear. I know I'm preaching! But mainly to myself.
If GROOVE is the space in between the notes, MAGIC is the twinkle in between the ideas. We don't hear the groove or think the magic. We FEEL the groove and BELIEVE the magic. We all have our own magic, but admittedly you have to be just a tad crazy to actually believe it's true. And as with ALL of life's most wonderful mysteries, FAITH makes them come to life. I don't get it either. And I can't prove it. So stop that line of thinking right there sister. I just hope when you walk into Dora Mae, you experience a little magic…sense a little more than what meets the eye. And I hope you leave with a little twinkle that wasn't there before. This maker is gonna make. But it won't come to life without the Magic.
The Dora Mae Decree "By the power vested in me by the magical vintage fairies, I hereby decree:
1) Dora Mae is not about selling jewelry! We seriously would shrivel up and creatively DIE if that was our dried up business plan. Forget selling…we are inviting you into the process of restoring life and beauty into your family heirlooms! No heirlooms to recreate? No problem! That brings us to #2.
2) Dora Mae is about discovering what "one of a kind" means to you. Celebrating unique style and perspective IS OUR JAM and we do a big happy dance when people break out of the mold of mass produced trends. If you walk out our studio doors and feel as unique and original as the jewelry you are wearing, our mission is complete.
3) Bravery. What's that? We helped you stretch in the style department? You feel a dash more confidence wearing something totally original that you didn't copy? Oh we are happy dancing right out of your comfort zone with you. (Deep down we're hoping this seemingly silly fashion decision could be symbolic of something deeper for you.)
4) Your stories matter to us and they make your designs better. Tell us how that brooch reminds you of your mom singing in a jazz club or a memory with your grandmother dancing in her rhinestone shoe buckles. Fashion is so much better when the heart shines through! Plus you'll feel more connected to it AND you will wear it more AND other people will feel that energy AND you'll get a million compliments. It's just true.
5) Our mission boils down to living for something bigger than ourselves. There is something so freeing about living for more than just what "makes you happy," for someone beyond you and your control, something outside your own personal realm of what's "possible." We flesh this out in our relationship with artisans in Madagascar and it's been one of the most life-changing, perspective altering, faith-building experiences we've ever had.
6) Don't suppress your mess. Let all your colors show – even if sometimes they mix together and turn a poop brown color. It's OK. We are all messy and stinky sometimes. And when we know the FULL story, we can HELP EACH OTHER.
7) We are passionate about highlighting our fellow local artists and designers because good art speaks to the soul. And we will take any opportunity to increase our soul's vocabulary! Also we love meeting and knowing and sharing ideas and being inspired by local creatives because ITS JUST FUN. And then we fall in love with them and want to share their gifts with everyone we know. I love this creative rhythm. Can't help but dance."
- Dora Mae Jewelry
When asking Ansley, "What's Next?"
There's a lot to stay tuned for...
Dora Mae's growth has allowed brand development to be a bigger part of the conversation. Let's be honest, its enough for small creative brands to design, manufacture and sell – brand "development" can seem like a luxury. I needed those first years to figure out exactly who Dora Mae Jewelry really is…and we are still learning everyday!
This year Dora Mae hopes to expand both the wedding and corporate divisions of their business and see huge potential for growth in both areas. They also hope to introduce new artists into their studio and gallery space because sharing up-and-coming local art is a true Dora Mae passion! Finally, they will continue to train new women in Madagascar to create their handmade beaded chain.
"What started as a fair trade project has turned into a beautiful, sustainable relationship with women 9,000 miles away. We have successfully partnered for two years and have created over 10,000 feet of custom chain together. This has easily been the biggest blessing Dora Mae has experienced." -Dora Mae Jewelry
Bridal: We have a very unique bridal experience that not only allows for brides to translate their "something old" into "something new" for their wedding day jewelry, but we also give them a completely custom bridesmaids gift experience. The bride lists each bridesmaid by name with 1) their style/color of dress 2) their personal style (i.e. big bold boho jewelry, small delicate minimal jewelry 3) special memories or qualities about their friendship. We then create a personalized piece for that bridesmaid and name the piece on the tag using the bride's description. Each bridesmaid feels known and loved in a totally unique way and takes the "bridesmaids gift" to a whole new level! Plus they have a one of a kind gift created using their personal style in mind that they will want to wear long after the wedding day is complete. We work with budgets fro $50-$250.
Corporate: Our new corporate division is exciting because now more than ever companies are wanting to give their best employees unique incentive "experiences" rather than just mass produced gifts! Dora Mae Jewelry allows these employees to receive one of a kind, customized jewelry that they won't find anywhere else. Our first few shows have been great successes and we hope to get the word out to more corporations offering incentive trips and conferences.
Madagascar: We currently have trained and employed 9 at-risk Malagasy women and one incredible tri-lingual coordinator named Ranto! Ranto is my life line to these girls and cares for them both personally and professionally as they navigate the challenges of life in a third world country. She keeps all of the beads and wires accounted for, keeps track of the girls productivity and pays each girl with funds we send via wire from the states. Ranto oversees the quality of all the wire wrapping and ensures new girls are trained properly. Our relationship is of utmost importance in this fair trade adventure and I'm grateful for her everyday. (More about this adventure under "Mission" on the website.)